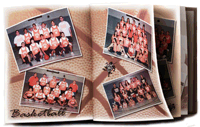 Sports Spirit: Prticipation, Competition, Sportsmanship, and Team Membership.
The athletic groups have created so many exciting moments that bring every student, staff member, and teacher into one big family, because of the shared honor and interests.
The obvious benefits of athletics are physical exercise, healthy competition, and the invaluable life skill of teamwork. The true merit of athletics, however, is in developing and fostering relationships, and in the discovery of self while pushing beyond, and even shattering, self-imposed limitations. Granted, the thrill of victory is most gratifying, but the satisfaction of knowing that a team came together, on and off the field, to act as one collective whole is of far greater significance.
The experience along the road is so valuable and memorable to everyone involved, and a photo book becomes the best way to record every moment and reflect the sports spirit in your school.