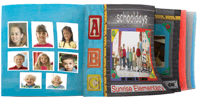 There are always more memorable things that take place during the entire school year than anyone could possibly remember.
By printing a photo book for the class, you are adding a lot of class and creativity to what happened and transforming them into real eye catchers. A professionally bound photo book is the most creative way of showing off the best smiles and best activities in your class. The touch and feel of a photo book simply adds depth to your otherwise ordinary photographs.
The students and parents will definitely appreciate this unque gift at the end of the school year!