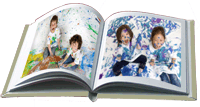 Photography Club, DJ Club, American Red Cross Club, Art Club, Choir Club, Drama Club, Movie Club, Fishing Club, Bowling Club, Latinos Unidos Student Association, Cosmetology Club, Alpha Gamma Sigma, Chess Club, Debate Club, Creative Writing Club, Math Club...
With the recreational and educational nature nowadays, clubs are more than a fun experience. Students also get to meet people who share the same interests that they have. Meanwhile, the shared happy moments and joyful laughter can be recorded with their cameras through the year.
Every student, including their parents and families, will be very glad to see a beautiful hard cover photo book printed at the end of the year. These books will become something they will cherish for years to come.